Learn how Growbeam helps you hire
Tailored to the way you hire
Everything can be fully customised to suit your hiring process so that Growbeam works exactly the way you do.
Everything in one place
Manage your entire hiring process from posting jobs to hiring successful candidates, all in one place.
Smart Analytics
Find out where your successful hires are coming from using data-driven insights to easily identify ROI and successful channels.
What is Growbeam?
Growbeam is a modern cloud-based applicant tracking system that allows you to easily track and manage your hiring process all in one place. Post job openings, source and manage candidates and use analytics to make good hiring decisions with your team.
Visualize your hiring pipeline
Get an instant overview of your current hiring pipeline all in one place.
Keep hiring managers happy by customising your hiring workflow for each department.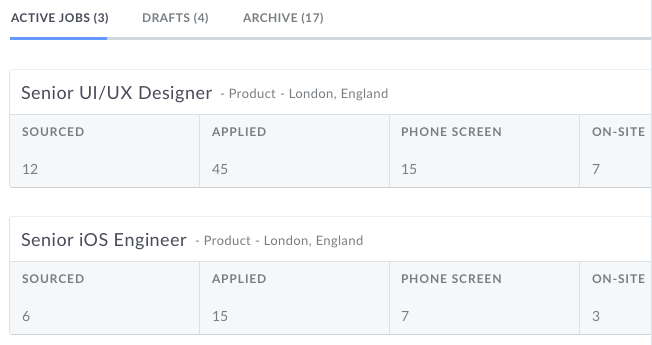 Hire with your team
Include your colleagues in the hiring process by creating customised hiring teams.
Manage who sees what by adding colleagues by role or department.
Easily receive feedback and keep everyone on the same page with notifications, comments and emails all from within Growbeam.
Get to know your candidates
Everything you need to know about a candidate in one place.
Resumes and cover letters are automatically scanned and turned into rich candidate profiles.
Growbeam will also search online and pull in data from social media sites so you can get to know your candidates better.
Join the BETA
GrowBeam is currently in private beta, request an invite for early bird access.
REQUEST INVITE NOW
Don't let things fall through the cracks
Organise phone screens and interviews using Growbeam's in built two-way email sync.
Create your own templates for each stage of the hiring process and send personalised emails to keep candidates in the loop.
Make the right hiring decisions
Improve your hiring process by identifying where successful hires are coming from using Growbeam's smart analytics.
Establish which channels yield the best results and optimise your hiring process.
Use historical data to shape your future hiring strategy by analysing the ROI of all your hiring channels.